Mokum's finest
Sababa: my best falafel in ages
Each week, culinary writer Monique van Loon gets a meal delivered and writes about it. This one came from Sababa, on Kinkerstraat.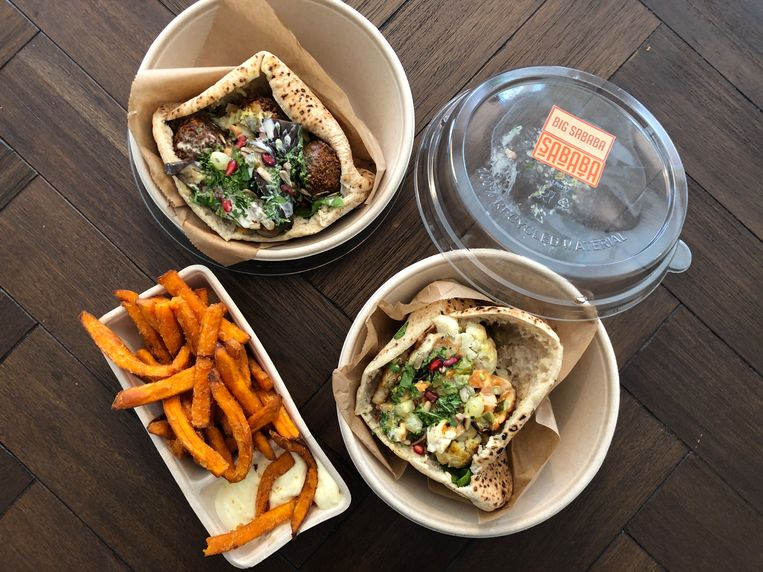 Where did you order from?
Sababa, which opened in April, gets its name from a Hebrew slang word meaning "no worries". The owners, four friends from Amsterdam who fell in love with Israeli food, say they specialize in tasty, sustainable, Middle-East-inspired cuisine.
What was on the menu?
It wasn't easy to choose, because everything sounded so enticing. There were things like pita filled with falafel and hummus, or with grilled halloumi (a Cypriot semi-hard white cheese), smoked aubergine, and roasted cauliflower. Many of the dishes were vegetarian, and they also had pita with organic chicken thighs. Apart from wraps, I chose some salads and other sides, and some drinks. There's also a mezze board with a good selection of snacks.
How long did it take, and how was it packed?
The doorbell rang after twenty minutes. Everything came in environment-friendly bio-based disposable packaging, which was also fun to eat from.
Time to get stuck in…
I started with the pita sababaganoush, which I ordered as a combo (€13.50). They threw in a side for an extra couple of euros, so I chose the sweet-potato fries, which were amazingly crispy – no mean feat with this particular vegetable. They looked like they'd been dredged in cornflour first, a smart choice. It was a big serving, over 200 grammes, and the accompanying lemon mayonnaise was fresh and creamy.
The pita was outstanding, filled with the best falafel I've eaten in ages: really crispy on the outside, and abundantly spiced. The aubergine was pleasantly smoky, and the spinach, sunflower seeds and pomegranate made all the difference. Once again they were generous with the quantities, and it was excellent value for money.
What else did you order?
A separate portion of falafel with tahini sauce (€5.50) which, sadly, never showed up. I was able to get an instant refund via the UberEats app, but this was sloppy.
Fortunately, I also got the pita big sababa (€11.50), with the grilled halloumi I was so looking forward to. The bread was superfresh and lightly browned, a real bonus, and the halloumi had that nice squeaky feel between my teeth and was full of flavour. The roasted sweet potato, thickly covered in ras el hanout mixed spices, was the perfect finish to this generously filled wrap.
I'd have liked a lot more of the delicious piccalilli and tahini sauce, but that's actually a compliment to the chef rather than a complaint. Keep up the good work!
Sababa
Open Mon-Tue 4:30 to 9:30 pm, and Wed-Sun 11:30 am to 9:30 pm
Order via UberEats, Deliveroo, or Thuisbezorgd
What I paid: €30.50 for two pitas and falafel
Recommended? Absolutely!