Mokum's finest
Five great places for meze
Each week, we suggest five go-to eateries in Amsterdam for specific culinary needs, from poké bowls to toasted sandwiches. This week: meze.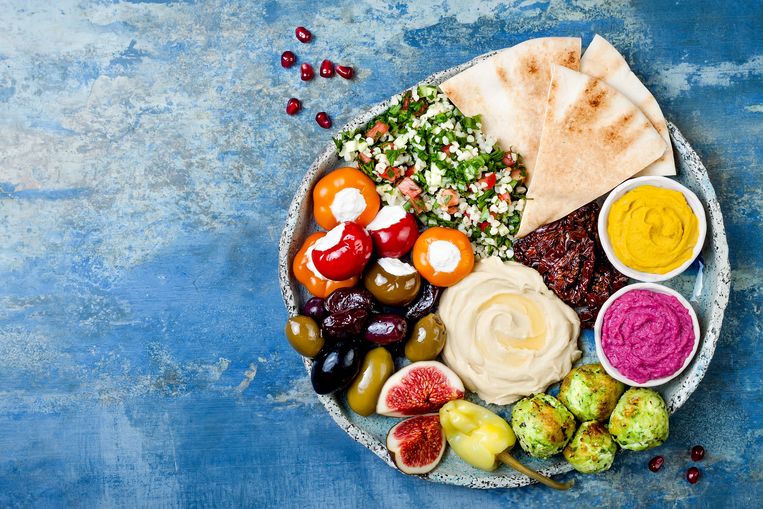 Mention meze, and most people probably think of the traditional Lebanese combination of hummus, falafel, and fresh pita bread. Beyrouth shows that there are many other less well known forms.
One is fateir sabenikh (€9), six pastry envelopes filled with spinach and sumac; another is kebbi mehshi (€10), six beef meatballs with Middle Eastern herbs. Can't make up your mind? Try meze number 10 (€36), a combination of hot and cold dishes served with bread and enough for at least two people.
Beyrouth, Kinkerstraat 18
The word meze comes from the Persian maze, meaning taste or snack, so it's not surprising that there are lots of mouthwatering Persian meze. Daarbaand serves mirza gasemi (€6.50), a vegetarian dish of grilled aubergine, garlic, egg, and tomato, and for meat lovers there's stuffed kofte berengi (€6), with minced lamb, rice, egg, berries, walnuts, and raisins.
Daarbaand, Overtoom 350
Moroccan restaurant Mozo is a delight, and everything it serves is halal. There's a choice of cold meze bared and hot meze sghon. For a cold starter, try zahlouk (€6.50), a slightly spicy traditional aubergine salad served with hot bread from a stone oven. One hot option is felfel kefta (€6.50), two sweet pimentos stuffed with minced lamb and ras el-hanout mixed spice, and served with a creamy sauce.
Mozo, Van Woustraat 89
The Orontes is the original name of the river Asi, which flows through Lebanon and Syria to the Mediterranean. The restaurant named after it combines the flavours of these two countries, plus an abundance of Turkish dishes. It has two locations, one in West and one in the Pijp.
Both serve oruk (€6.50), bulgur and tartare filled with minced meat and walnuts and served with cacik yoghurt and cucumber dip. And both also have ispanak. seasoned, stirfried spinach with bell peppers and sunflower seeds on a bed of garlic yoghurt.
Orontes, Albert Cuypstraat 40, Hugo de Grootplein 8
Going Greek
Plato has everything you'd expect from a restaurant of that name: Greek-style décor, live music, dance, and Greek specialties. The menu features some forty meze, known in Greece as mezedez. It has familiar dishes like tzatziki with bread or Greek feta salad, and less well known ones such as kefalotiri saganaki (€8.35), baked hard sheep's-milk cheese, or midia tiganita (6.45), mussels with cocktail sauce.
Plato, Confuciusplein 14